Are your car brakes not as responsive as they used to be? Can you hear a noise when braking? Then maybe your car brakes need replacing
Get our skilled mechanics to carry out a Free full inspection and report any issues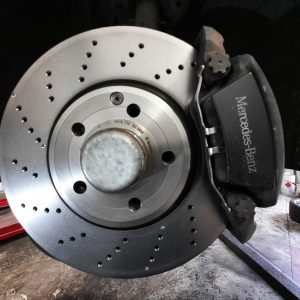 As you drive, the friction material on your brake pads wear. It can be hard to determine how long you can get out of your brakes, as many factors have to be considered. Your driving style, is it mainly motorway driving or driving in traffic, the material used in the pads.
As part of your car service, our trained mechanics will do a full inspection of your brakes and advise if they are getting low or if your car brakes need replacing.  We will also measure your brake disc and compare them with the min thickness allowed by the manufactures. 
Call today to make an appointment for a FREE brake check
Gerard Mulligan
2023-01-13
I highly recommend Robin Hood Motors. I had a steering rod replaced recently. They were incredibly helpful, highly service oriented. They arranged an appointment immediately and had the work finished very efficiently and professionally. Very cost competitive too! Thomas is a gentleman. My go to garage from now on!
Hudson Muhlava
2023-01-06
The staff are great and welcoming, I can feel the difference when I drive my car, which I brought for service. The price is fairly reasonable. I would definitely recommend someone.
Quick turnaround and very efficient service.
MARTIN COULAHAN
2022-12-18
Excellent service quick and not too expensive thomas a gent thank you
Great Service and Quality 👍👍
Really good staff !!!!!